The production process of prefabricated concrete elements starts immediately after the design has been adopted and takes place along with preparatory works and earthworks. This method of construction ensures that the contractor/engineer has a significant starting advantage, the facility is closed in a short time so that works on interior positions can start considerably earlier.
As prefabricated concrete elements are produced in factories under controlled conditions, low temperatures in winter do not affect the production dynamics and product quality. The prefabricated construction can be mounted in winter months which enables the process to run smoothly irrespective of weather conditions.
The system of prefabricated concrete elements proved to be very resistant and adaptable in time, with new design concepts and technological developments. High quality, transport and mounting speed of prefabricated concrete constructions are our greatest trumps that we use for investors.
Our company
In the sector of building construction our company applies the system of prefabricated concrete elements which in comparison to standard construction shows the following advantages: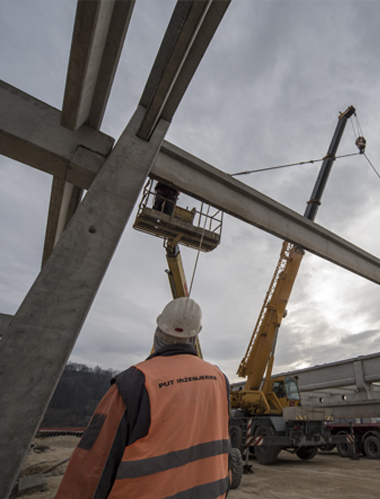 Advantages of the prefabricated concrete construction take effect in each project, in different construction stages. Conducting the project in a prefabricated system, its advantages can be be fully exploited in early construction stages.
Completely automated production process as well as the usage of concrete constructions protect environment in several aspects:
The essential avantage of the prefabricated construction is the speed at which the construction can be designed, produced, transported and mounted.. Based on immense experience, our engineering team represents an ideal partner concerning the choice of appropriate precast concrete elements, when adopting rasters, drafting statics design and mounting design.